How the Coronavirus is Affecting the Entertainment Industry
The coronavirus pandemic is no secret to the world by now, with the total number of confirmed cases surpassing 350,000 as of March 23, according to statistics collected by Johns Hopkins University. As this number rises, many have been questioning what will happen to the entertainment industry, as content ranging from movie productions to album releases has been postponed or cancelled. Deadline Hollywood reported that Universal is making their movies available in homes the same day they were scheduled to be released globally. Birds of Prey director Cathy Yan also said she "would not be opposed to putting [the movie] on
earlier," and its early DVD and at-home release was also recently confirmed. This pandemic is not just affecting films, but also television series, Broadway productions and musical artists. The question must be asked: How will the entertainment industry move forward amid the coronavirus pandemic?
In terms of film, many releases are being pushed back and/or released earlier than originally planned on streaming services. Some films that have been pushed back include A Quiet Place II, No Time to Die, Fast and Furious 9, Mulan, Marvel's New Mutants and, most recently, Black Widow. They are being delayed until as late as April 2021, and some did not specify when they are being released, just that they are not coming out on their scheduled dates. The Hollywood Reporter also took national polls from March 5 to 7 regarding a variety of entertainment components, and they found that 27% of people said they strongly prefer to watch a new release at home via streaming services and 43% of people said they were strongly or somewhat more likely to watch movies via a streaming service. According to the LA Times, AMC theaters were initially limiting guests, but now they are closed for everyone.
"AMC previously said it would limit attendance to 50 guests for all its showtimes. The company was trying to comply with CDC recommendations limiting gatherings to a maximum of 50. But the new guidance from federal authorities made the continued operation of cinemas impossible," LA Times writer Ryan Faughnder said.
The Kane County Chronicle has also reported that Charlestowne 18 Theatre in St. Charles, GQT Randall 15 IMAX in Batavia and Cinemark Tinseltown USA in North Aurora have closed their doors in hopes to slow the spread of this disease.
As for television, one might think TV shows would still air regularly, but some shows have opted to take a hiatus from weekly releases. Production for the fourth season of Fargo on FX has been postponed, thus its release date is also being pushed back. Season two of The Witcher also suspended its production, as well as original Disney+ shows that are both in production and filming, including The Falcon and the Winter Soldier, WandaVision and Loki. Preproduction of The Walking Dead's new season has halted, as has The Flash, Young Sheldon and Riverdale. IGN released a general statement from ViacomCBS (which includes stations such as CBS, Paramount TV Studios and Showtime), indicating they have not commented on specific shows.
"Over the past few days, we began making decisions to temporarily postpone production on some of our pilots and current series. At this time, we are evaluating situations on a case-by-case basis, informed by the best information from health experts and government officials. Some productions may continue as long as they do not involve live audiences and/or environments that are considered at risk. The safety and welfare of our production team is our top priority," CBS said.
Most Americans have some kind of cable or streaming subscription, and it seems as if it should not be a problem to continue airing shows as usual. Shows in the midst of filming or production are more understandable, but suspending programs that have already finished filming and are already airing ought to stick to their schedules given the amount of people who have access and the increasing number of people staying home from school and work. Perhaps networks are hoping to avoid viewing parties, but the suspension of so many shows already being televised seems a bit extreme.
Television and movie theaters are not the only forms of entertainment to shut down, however. Broadway in New York, the Paramount Theater in Aurora and plenty of other live theaters and operas throughout the world are closing, which is their best option at this point. TV may be handling this predicament with a little too much caution, but live performances are certainly managing this in the best way possible by avoiding the gathering of large crowds in a confined space. Shows on Broadway have officially been suspended until April 12. Many performers are turning to the Internet to encourage disappointed fans to send videos of themselves performing songs in their living rooms. These performers say they understand how hard delayed performances can be on high school students. NBC published an article on the phenomenon that is now known as "living room concerts."
"The videos encourage viewers to donate to Broadway Cares/Equity Fights AIDS, which had to cancel its annual Broadway Backwards Fundraiser concert, as well as the Actors Fund, an organization that provides assistance to people in the entertainment industry in distress," NBC said.
Even music is being pushed back by artists such as Cardi B, but most teenagers still have electronics in the house with them all day during this social distancing period. Maybe mass cancellations of just about everything is for the best at this time, but it has left plenty of people wondering how far is too far for some branches of this industry.
About the Writer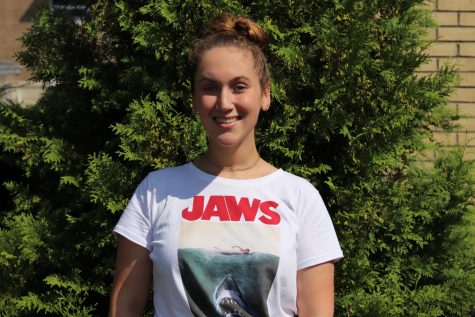 Sarah Janito, Centerspread Editor
Position: Centerspread Editor

Graduation Year: 2022

My Future Goals: I want to graduate high school, go to college and pursue my passion. It has...