The World Through Social Media
Experiences inspiring adventure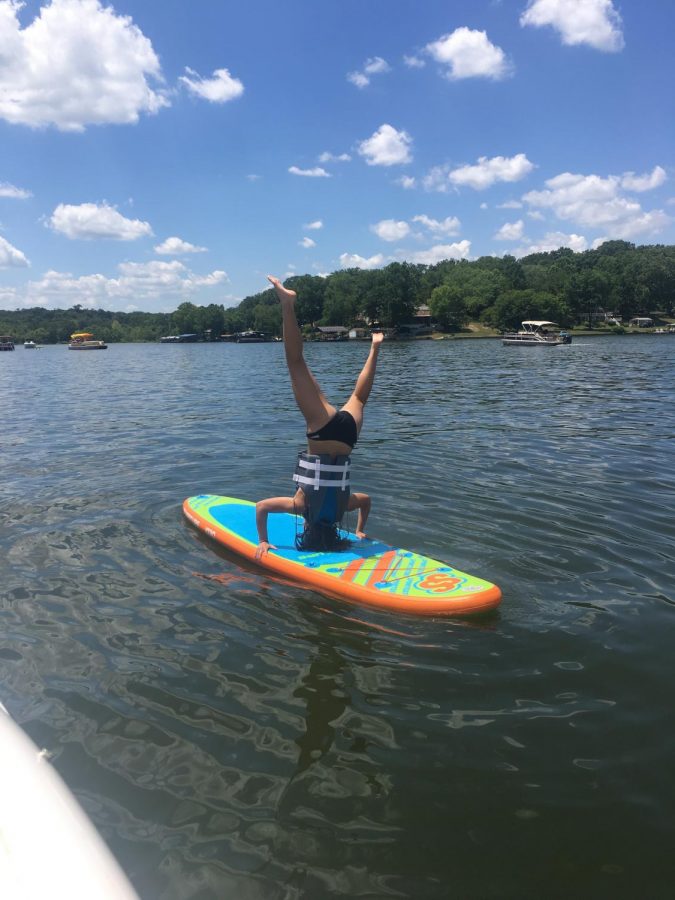 By: Olivia Hazen, Reporter
February 27, 2018
After traveling since she was a toddler and being exposed to many different lifestyles, as well as becoming interested in food and health, junior Lindsey Norman finds herself passionate and driven to share her thoughts and experiences with others. Norman saw an opportunity to impact other people's lives and quickly became excited to share when she created her Instagram blog.
Norman lives at home with her mother, Bev and stepfather, Greg while her older brother, Austin and sister, Kayla have already moved out. She is an employee at Home Goods and currently a member of Kaneland's Med club, Ski and Snowboard club and the Living Mi Dream program.
Norman's blog has been a helpful tool in finding herself and showing her importance in the world. Instagram provides her with a platform to share her thoughts and experiences with many people. She has both an extremely healthy physical and mental lifestyle that her readers follow through her posts.
"Before I cared so much about what people thought, people don't have that much of an impact on you unless you let them. I'm more myself," Norman said.
Provided with opportunities and experiences impossible to pass up Norman builds a strong understanding of her true self. Norman shows how she is an independent, social, adventurous, responsible young women in multiple scenarios. She is social with many people on VSCO, Snapchat, Facebook and Twitter, and has been to seventeen states as well as traveled out of the country to the Caribbean. When visiting traveling, her academic responsibilities come first.
She first introduced her writing on Oct. 11, 2017 where she explained her purpose of creating her new account and what she plans to share. Beforehand, to advertise her new account Norman posted on her personal Instagram page to spread the news.
"I would love to express my passion for food, traveling, physical and mental health with anyone who wants it, because it has been particularly beneficial and applicable to my life. I would love to answer any questions and share information," Norman said.
Norman's blog can be found on Instagram @nutrimentnorman, her hundreds of followers tune in each week to read her new posts. Supporting some of her followers and finding additional inspiration, Norman follows her peers and fellow blog writers through her account.  
"I think that it is cool to share things that you enjoy with other people," Norman said.  
Norman's Instagram blog brings a rarely seen fresh perspective on an average teenagers life involving travel, everyday events as well as physical and mental wellness.
Norman defines her blog as a positive outlook on everything. She posts about her personal life, travel, health, food and recipes.
"Organization is a key part of my life. Making plans, goal setting, anything that helps me achieve. One of my biggest factors of my mood, mindset, etc., is my environment. I enjoy being able to feel tidy and non stressed. Honestly, cleaning is therapeutic to me and many others," Norman said.
Normans motivation and dedication to achieve her goals allows her continue to successfully post on her blog.
"I have always enjoyed health and fitness and I like talking about it so I figured social media was the easiest way [to share with other people]," Norman said.
Grateful for the opportunities to travel, Norman acknowledges her support system which is spread throughout many parts of the country with relatives such as her aunt, uncle, brother, sister and friends.
"I have family everywhere. I travel with my aunt and uncle a lot since they don't have any kids," Norman said.
To name a few, Norman has been to the Caribbean, Missouri, New York and to Arizona with her aunt and uncle. They plan to go to Nashville in November next year.
Humbly trustworthy and considerate to her followers and peers, Norman shares simply stated elegant advise.
"Be authentic, try and be different," Norman said.