Top 5 Halloween Movies to Give You Chills
As Halloween approaches, there is nothing better to do than curl up under a warm blanket and watch a movie. Over the past month, I took it upon myself to watch basically every Halloween movie I could find and rate some of them in order of greatness. To make this somewhat easier I decided to include movies rated PG or less. So now, without further ado, I present to you the top five best Halloween movies:
Number 5:
The Addams Family
Keep in mind that over the course of a good month I have watched more Halloween related movies than anyone in their right mind ever should. So for The Addams Family to be ranked number five, it truly means a lot. The Addams Family (*snap* *snap*) tells the tale of a family that took the phrase "treat everyday like it's your last" a little too seriously. To be clear, the entire household is super creepy… as a quick example, their family pet is a severed hand named Thing. While the Addams are an incredibly gothic family, they are also an incredibly rich family. Local con artists take notice of the family's wealth and create a plan to embezzle as much money as possible from them. The con artists decide that the best way to steal from the Addams family is by having one of them pretend to be a long lost brother to one of the members. The movie is a mix of drama and comedy that goes over the heads of most children, but can make it enjoyable for older audiences. As funny as the movie is, there are parts that drag on and are painstakingly long. Overall, The Addams Family is a great movie and one to see every year.
Number 4:
Ghostbusters
Number four on this list is Ghostbusters, and you bet your bottom dollar that I'm talking about the original. When I first started a Halloween movie binge, I almost skipped over Ghostbusters just because it's so popular that I thought it'd seem overdone. I'll admit my wrongs and say that was completely untrue. Ghostbusters is a classic and will always remain a classic. The movie is about a ragtag group of social misfits who rally for the greater good of New York City and fight against the ghosts lurking in all the dark corners. It doesn't take long for the movie to prove itself as a major player in the Halloween category. With minor jumps and a plotline that appeals to audiences of all ages, Ghostbusters fully deserves the number four spot on this list.
Number 3:
The Nightmare Before Christmas
Slap Tim Burton's name on any film and it will automatically have a special place in my heart. Something about the animation of The Nightmare Before Christmas is so off-putting that it ends up being one of the best Halloween movies of all time. Not to mention that the soundtrack is a bop. The Nightmare Before Christmas tells the story of the King of Halloween, Jack Skellington. Very quickly into the movie, Jack grows tired of the constant repetition of the holiday and decides to venture into the world of Christmas. From there it's a downhill spiral into the lesson of exactly why there are no skeletons and monsters during the winter months. The Nightmare Before Christmas is definitely one to watch with the whole family this spooky season.
Number 2:
Hocus Pocus
There is something special about a cheesy 90s movie that you can't get from any other movie. Hocus Pocus is a prime example of exactly that. The movie is primarily about three witches that wreak havoc on a small town. The only people that can fight the witches are a young girl, her brother, and her brother's crush; I know it's stereotypical, but trust me it is so worth it. Hocus Pocus features a nonstop string of jokes and humor that assures the movie never drags; plus, there is a very random musical performance in the middle of the movie. Throughout the night you won't be able to stop smiling and rolling your eyes during this Halloween staple.
Number 1:
Beetlejuice
Ladies and gentlemen, we have finally done it. We have reached the number one movie to watch this Halloween, and Beetlejuice is by far the winner. Not only is it funny and interesting to watch, but it truly is scary. I'm much older than the intended audience of this movie and I still jump in my seat during certain scares. The film is based around a young couple that dies very unexpectedly. While simultaneously coping with their own death, the couple also has to try and fend off the new owners of their home. When nothing seems to be working and the couple are completely hopeless, they call upon help from a supernatural force. As it turns out, their "help" isn't very helpful at all and causes problems faster than they can be fixed. Although Beetlejuice may be considered old, it is still the best in the business. With a soundtrack to die for (I'm hilarious) and a script that is beyond genius, Beetlejuice is the most deserving Halloween movie out there. So with only a couple days left until October 31, make sure to take a little time out of your schedule and watch this masterpiece. I promise you that it's worth it.
About the Writer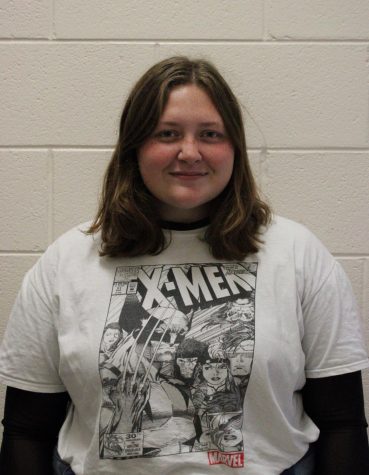 Sophia Mullins, Co-Editor-in-Chief of Web / Copy Editor
Position: Co-Editor-in-Chief of Web / Copy Editor

Graduation Year: 2021

My Future Goals: Make a positive impact while I'm here!

A Fun Fact About...