Emily VanDelinder: Artist, creator, motivator…and Roller Derby competitor
     The percussive hum of the pottery wheel rings through Emily VanDelinder's ears, overtaking her mind as she stares at the spinning hunk of clay, waiting for it to take its true form. She wastes no time: her vision is clear in her mind so she thrusts her fingers into the wet clay, expertly poking and prodding. Her hands take over: she knows she has the skills to find the bowl desperately waiting for her inside the once uninspired piece of clay. The smooth clay covers her hands and the sounds of conflict slosh through her ears. VanDelinder sits up, peering at what she created. Then, she knew what she had to do.
     Though Emily VanDelinder was already a college student when she discovered her love for ceramics, she had always had a deep love for and understanding of all things art. VanDelinder's passions had always been supported by her parents and other family members who also shared in that love.
     Though her parents loved art, she had a special love for her grandmother. "I felt very connected to my grandma because she was into art and ceramics and sewing," VanDelinder said.
     VanDelinder was a self-described "weird art kid" throughout her childhood. She always marched to the beat of her own drum, not letting anyone tell her her dreams were not possible. After high school, VanDelinder went to a community college where she took many art classes and discovered her love for ceramics. 
     She went into college not knowing exactly what she wanted to do with the rest of her life but she says, "When I was a kid I knew I wanted to do something with art."
     Art was a light in her life that could never be snuffed out, but she needed direction. It wasn't until the middle of college that she decided that she wanted to be an art teacher, leading her to eventually find a job at Kaneland High School where she could influence so many kids by offering them the chance to find joy and creativity in art.
     Sophomore and previous student of VanDelinder Cosmo Gaddis said, "She was the first teacher I came out to, and she was really cool about it."
     All of her students greatly appreciate her but the kids who are considered 'weird' or 'different' appreciate VanDelinder even more. Her classroom has become a unique safe space for students of all backgrounds to come together and simply create. This is largely due to VanDelinder's teaching style which allows her to connect with her students.
     "I try to be a calming presence, and art is always a fun and colorful experience. It's all about expression anyway,and it's always the folks that are more in tune to expression and I'm just here to give them that space," VanDelinder said.
     Though VanDelinder is a fairly relaxed and trusting teacher, she always makes sure that everyone in her classroom, including herself, is treated with respect and kindness. 
     "I'm annoyed by rude and disrespectful behavior from anybody. I try to make people comfortable by my politeness and respectfulness, and I expect that same courtesy or at least effort from others," VanDelinder said.
     In a setting like a high school where anyone who can be taken advantage of will be taken advantage of, VanDelinder has to take control of her classroom while also making sure everyone is having fun and learning at a good rate. This can be a tough task, but VanDelinder makes it look easy.
     English teacher Rachel Giles, who is a close friend of VanDelinder, said, "She balances having high expectations in the classroom both academically and interpersonally."
     Despite her high expectations, VanDelinder is known by everyone to be a calming and sometimes quiet presence at school, which is why most are very surprised by her outside of school activities, like roller derby.
Helmet?
Check.
Elbow pads?
Check.
Knee pads?
Check.
Skates?
Check.
     VanDelinder laces up her four-wheel roller skates, hands shaking with excitement as she hears the buzz of the crowd sneaking into her ears as she tries to stay in the zone. 3…2…1…GO! VanDelinder skates as fast as she can, crashing into other women left and right. She may be small but her strength keeps her alive. They continue skating as, "Boom!" her teammate is violently knocked out of the ring, only slightly missing the stands of onlookers. Everyone is screaming as hot sweat trickles down her face.
     VanDelinder uses all of her might to push past the powerful formations of the opposing team and finally, she does. She's on the move, going faster than she thought possible. She knows there is a big, strong woman right behind her. With any falter she would be blown out of the ring, hard plastic smashing into her bones, scraping against her arms. But she wouldn't let that happen. 
     She makes a sudden stop, smashing into the woman twice her size and finally kicking her out of the ring. The crowd cheers: this is what we all live for.
     "[Roller derby] is something that helps with expression. It's also a really cool group of people that get together to do something completely ridiculous but also really fun," VanDelinder said.
     After high school and college, there are no 'extracurricular activities' so as an adult it can be more difficult to make new friends and find fun things to do. For Emily VanDelinder, the thing that allows her to find sisterhood and express herself is roller derby. Skating around really fast and pushing people over is a great and unexpected way to build community as an adult.
     "Pushing myself to go out to do [roller derby] allowed me to get out of my comfort zone as well as making me feel like I had this whole group of friends who all have my back and care about me," VanDelinder said.
     VanDelinder has made so many good friends just from one activity, but she says that her true best friend is her husband. 
     Back in high school, VanDelinder was going to a basketball game with her friend. The bustle and cheers of the crowd drowned out every word the two friends said to each other. Across the bleachers, her eyes caught  a boy who went to another school. Lights seemed to drop on everyone but them as they looked into each other's eyes for the remainder of the game. They started talking after and that was it.
     "He remembers exactly what I was wearing, what I looked like, everything. And I do not at all," VanDelinder said. 
     He was more romantic in that way and she was more artistic. They don't know exactly what it is but there is something between them that could never be broken. They love each other and that's all that matters.
     Even as VanDelinder's life shifted into a new path with a wonderful husband, art was still her passion. She made sure to pour every ounce of herself into her teachings, but now she realizes that she has to spend more time focusing on herself and her passions.
     "Right about now is a turning point for me. I have been doing a lot with the theater program in addition to teaching and art club that has been adding and adding on to my workload. This past year I've been realizing that it's a lot to handle, and it was making me extra stressed. So I've decided that I'm going to be dropping the auditorium stuff and allowing for new people to come in. I am very excited to start making my own art."
     Working with the theater department has been a huge part of VanDelinder's life, allowing her to make new friends like Giles and to create more art. Despite this, a lot of stress had been piling up on her back and she needed to make a change in her life to do the things that she wanted to do from the beginning, which is to make and sell her beloved ceramics.
     "I love working with clay. I find there's a peace to it, like it coming together to make something useful. I also like how unpredictable it can be, in that something could go wrong at any time or anything totally right at any time. We're connected to it but also not connected to it, so it teaches you to let go of things you can't control," VanDelinder said.
     Embracing her love for ceramics visibly brightens VanDelinder's face, allowing her to pursue her passions without worrying about others' visions for her future. She is viewing this part of her life as a turning point so that she will truly be happy and satisfied with what she puts out into the world. By doing this she sets a great example for those around her.
     All VanDelinder has to say is, "Create positive things, create beauty, create art."
About the Contributor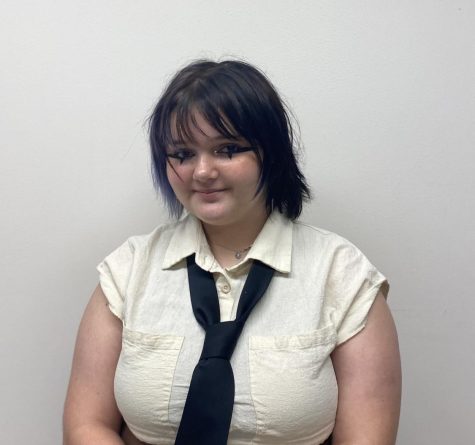 Lizzy Sidman, Feature 2 Editor
Name: Lizzy Sidman



Position: Feature 2 Editor



Graduation Year: 2024



A Few Sentences About Me: I'm super excited...