Live at Lollapalooza: UPSAHL
Summer in Chicago is coming up fast, which means that the beginning of summer music festival season is approaching, and talk about Lollapalooza is spreading like wildfire. The popular festival is more than just a multitude of bands booked for a marathon weekend. Everything about it is appealing to high schoolers: the music, the food, the celebrities and even the atmosphere itself. The moment tickets go on sale, students across the Midwest find themselves slamming their fingers against their phone screens in hopes that they'll be the first in line to get them. Some even go for more expensive passes in the hopes of meeting their favorite artists and bands. However, 20 year old Taylor Upsahl has the opportunity to do something at Lollapalooza that most young adults can't even fathom: performing.
Taylor Upsahl, who goes by Upsahl, already has over 174,000 monthly listeners on Spotify, several singles, an EP and now a deal to perform at Lollapalooza. She grew up in Phoenix surrounded by a musical family, with her dad constantly touring in bands. From the age of 10 until she graduated, she went to a performing arts school. She was so surrounded by music that it became a second nature to her.
"It was never really a decision I made of, 'Oh, I want to make music for the rest of my life…' It was just how I was from the time I could walk-music was always the thing that made me who I was," Upsahl said.
As she grew older, made a few albums and created her new persona, she finally found her sound.  
"I try to make my sound feel like a mixture of genres, while overall making people feel empowered. It's pretty pop focused, with hints of alternative and urban sounds," Upsahl said.

Rebranding herself and signing with Arista Records, owned by Sony Music Entertainment, Upsahl has started to make a name for herself in the music industry. Over the past few months she has been touring across the U.S. and her fan base has been growing weekly.
"I love getting to watch people react at live shows to the songs that I've written. To be able to connect and relate to people through music is just so powerful, so it's probably my favorite part of the whole thing. There is something so addicting about being on stage and sharing that energy with a crowd of people that makes all the hard work worth it. If somebody told me right now that I could never go home from tour and that I had to live out of a suitcase, sleep in a tour van and play shows every night, I would be so down. I love it," Upsahl said.
From being on tour with Max Frost and now performing for bigger and bigger crowds, Upsahl gets to face her biggest challenge yet at Lollapalooza. With the yearly attendance at around 400,000 people, it's surely a crowd to get nervous around, but Upsahl is ready to face it without a doubt.
"It's insane, crazy. I am so excited," Upsahl said.
Upsahl may be young, but she's definitely starting to become an influencer. Falling out of the mainstream group of artists, she is creative with her sound and the fans seem to love it.
"I just hope that I can continue to connect with people through my music. I hope I get to meet more fans and play better and bigger shows each year, and I just want to continue to release songs that I'm proud of," Upsahl said.
About the Contributor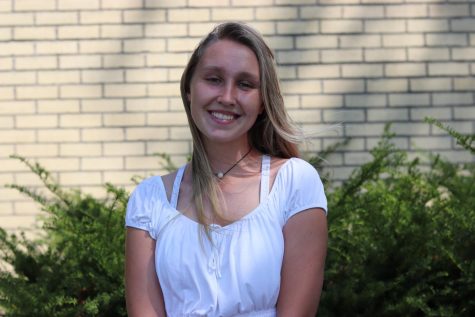 Sasha Clinnin, Visual Manager/Sports and Activities Manager
Position: Visual Manager/ Sports and Activities Manager

Graduation Year: 2021

My Future Goals: To own my own athletic business.

A Fun Fact About...